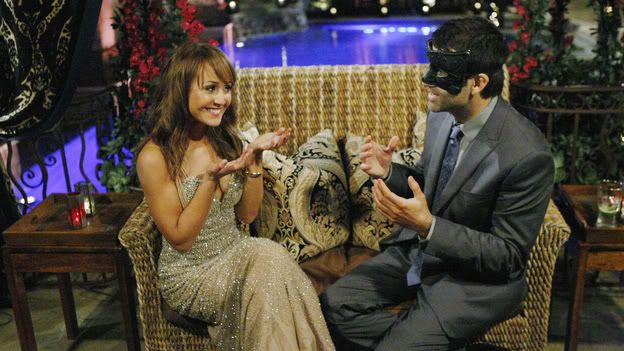 Episode 1:
I'm not going to lie I am a little obsessed with this show....it's like rubber necking! It is such a disaster but so entertaining. I know there are several places in blog land that do a weekly re-cap and I am going to add my 2cents here....why because I can.
- Ok first thing first...Yay Ashley you are looking better this season...I think it's the eye brows but it's hard to say.
- Cute bunch of guys...I am a sucker for guys with dimples (I've got my own dimpled guy and I LOVE it!)
- Phantom of the Opera dude, I get what you are trying to do but
find a better mask
and stop being creepy!!!
-Tim...Timmy seriously passed out drunk...nothing says looking for love than slurred words and snoring...HOT!
-Ben C. is this seasons "guard and protect your heart guy!" I can feel it!
-Sad for Anthony.....sorry you are so cliche but I full on clapped when you showed up with the open shirt and gold chain. I'm a little afraid that Tony Soprano might off Ashley for letting you go.
- Bentley.....NOT CUTE! He is this seasons jerk...Ashley get smart ASAP...but honestly this is scripted TV and he is there for ratings....I am going to love to hate you this season. (p.s. Cozy is not a name...maybe she should get together with Michael Jackson's Blanket)
- Ashley must like the floppy brown hair because she kept all three of them.
- West I'm sorry about your dead wife but I am pretty sure I heard that same scenario on Dateline on ID and the guy drowned his wife....just saying!
- My top three as of last night are 1. Ryan P. 2. Ben F., and 3. J.P. we'll see what happens.
If you follow the show let me know what you think!
-